47 Players Named to Paul Hornung Award Watch List
July 7, 2014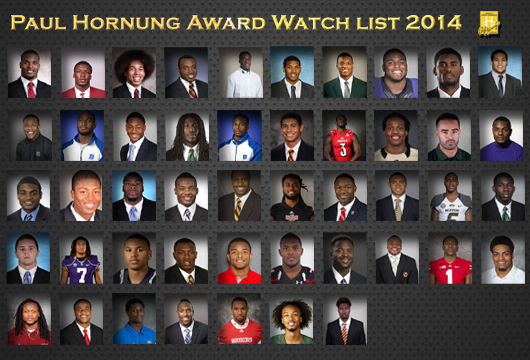 Leading All-Purpose Players from 2013 Are on the List
Louisville, KY. — Monday, July 7, 2014 —
The Louisville Sports Commission today named 47 multi-talented college football players to the 2014 Watch List for the Paul Hornung Award, presented by Texas Roadhouse.
The Paul Hornung Award, now in its fifth season, is given annually to the most versatile player in major college football by the Louisville Sports Commission and football legend and Louisville native Paul Hornung, the Golden Boy.
The 2014 Watch List was compiled by a panel of college football experts based on a combination of 2013 statistics, career performance and expectations heading into the 2014 season. Profiles of each player and information about the Award can be found at www.paulhornungaward.com.
The Paul Hornung Award Watch List includes one finalist from last season, Myles Jack from UCLA. Also, the Watch List contains 22 of the top 100 all-purpose players from 2013 according to yards per game average from ncaa.com, including the top two – Ty Montgomery from Stanford and Jamarcus Nelson from UAB.
The Watch List is comprised of 22 seniors, 12 juniors and 13 sophomores, representing 43 universities and 10 conferences that are part of the NCAA Football Bowl Subdivision (FBS). The ACC and Big Ten are tied as the leading conferences with 10 players followed by the Pac-12 with seven players. There are five players from the Big 12 and four from the SEC on the Watch List.
Players on this year's Paul Hornung Award Watch List accounted for 9,799 rushing yards, 21,281 receiving yards, 18,353 kickoff return yards, 4,104 punt return yards and 346 total tackles in 2013. Reminiscent of Hornung during his playing days, members of the Watch List demonstrated a knack for scoring last season, accounting for 300 total touchdowns in seven different ways – passing, rushing, receiving, punt return, kickoff return, interception and fumble recovery/fumble return.
Hornung is impressed with the skills and attitude of the players on the Watch List. "It's great that we are able to acknowledge outstanding players who contribute any way possible to help their team win," Hornung said. "Doing what it takes to win was a trait that I learned early in my athletic career and carried with me to Notre Dame and the Green Bay Packers. I look forward to following the players on our Watch List during the upcoming season. And I enjoy watching many of our winners and finalists from the first four years as they make their marks in the NFL."
2014 Watch List Selections
 Ameer Abdullah, Nebraska
Nelson Agholor, Southern California
Kenny Bell, Nebraska
V'Angelo Bentley, Illinois
Victor Bolden, Oregon State
Tyler Boyd, Pittsburgh
Shilique Calhoun, Michigan State
B.J. Catalon, TCU
Rashon Ceaser, Louisiana Monroe
Stacy Coley, Miami (FL)
James Conner, Pittsburgh
Pharoh Cooper, South Carolina
Jamison Crowder, Duke
Stefon Diggs, Maryland
Chris Dunkley, South Florida
DeVon Edwards, Duke
D.J. Foster, Arizona State
Charles Gaines, Louisville
Rannell Hall, Central Florida
Scott Harding, Hawaii
Justin Hardy, East Carolina
Akeem Hunt, Purdue
Myles Jack, UCLA
Christion Jones, Alabama
Jameon Lewis, Mississippi State
Tommylee Lewis, Northern Illinois
Tyler Lockett, Kansas State
T.J. Logan, North Carolina
Venric Mark, Northwestern
Kevonte Martin-Manley, Iowa
J.D. McKissic, Arkansas State
Ty Montgomery, Stanford
Khalfani Muhammad, California
Marcus Murphy, Missouri
Jamarcus Nelson, UAB
Levi Norwood, Baylor
Ryan Switzer, North Carolina
Shaq Thompson, Washington
Antonio Vaughan, Old Dominion
Levonte "Kermit" Whitfield, Florida State
Carlos Wiggins, New Mexico
Kenny Williams, Texas Tech
Shane Williams-Rhodes, Boise St.
Myles Willis, Boston College
Dontre Wilson, Ohio State
Aaron Wimberly, Iowa St.
Shane Wynn, Indiana
The Louisville Sports Commission successfully launched the Paul Hornung Award in 2010 to honor its namesake and native son and to promote outstanding performances by versatile college football players who often go unnoticed. Owen Marecic of Stanford, a two-way starter and All Pac-10 performer at fullback and linebacker, won the inaugural Paul Hornung Award in 2010; Brandon Boykin of Georgia won the award in 2011 after excelling on defense, offense and special teams; Tavon Austin of West Virginia won the award in 2012 as one of two players in the nation with more than 500 yards in three different categories (rushing, receiving and kick returns); and Odell Beckham Jr. of LSU won the award in 2013 after finishing the season ranked second in the nation and first in the Southeastern Conference with 2,222 all-purpose yards and 185.2 average yards per game.
Past winners and finalists who have made their mark in the NFL or are beginning their careers in 2014, include Boykin (Philadelphia Eagles), Austin (St. Louis Rams), Beckham Jr. (New York Giants), Kentucky's Randall Cobb (Green Bay Packers), Toledo's Eric Page (Tampa Bay Buccaneers), Oregon's LaMichael James (San Francisco 49ers), TCU's Jeremy Kerley (New York Jets), Kent State's Dri Archer (Pittsburgh Steelers), Arizona State's Marion Grice (San Diego Chargers) and Texas A&M's Johnny Manziel (Cleveland Browns).
Texas Roadhouse signed on as presenting sponsor of the Paul Hornung Award in 2011 and will team with the Louisville Sports Commission to power fan voting again this season. College football fans nationwide will have the opportunity to vote for their favorite player during the regular season and again during the bowl season. Fan voting will open in late September and factor into selection of the finalists and winner.
The winner will be honored at the official Paul Hornung Award Banquet sponsored by KentuckyOne Health, held at the Galt House Hotel and Suites in downtown Louisville in late January-2015.
Players from all FBS teams are eligible and appearing on the Paul Hornung Award Watch List is not a prerequisite for winning the Award. The Selection Committee is comprised of 16 national sports journalists and former college and NFL players who vote for finalists then a winner. Their votes are tabulated by public accounting firm Dean Dorton.
###
Paul Hornung Award presented by Texas Roadhouse
Created by the Louisville Sports Commission in 2010, the Paul Hornung Award presented by Texas Roadhouse is given annually to the most versatile player in major college football. The Award is designed to promote college football and help preserve the legacy of one of Kentucky's best-known and accomplished athletes who has always called Louisville home. Hornung, the 1956 Heisman Trophy winner at Notre Dame and NFL MVP for the Green Bay Packers, set a single season NFL scoring record that stood 46 years. Hornung is a member of the College and Pro Football Halls of Fame, and Vince Lombardi once called Hornung, "The most versatile man ever to play the game." A national selection committee comprised of 16 sports journalists and former NFL stars votes for the Hornung Award, with fan voting powered by Texas Roadhouse comprising the 17th vote.  All votes are tabulated independently by regional accounting firm Dean Dorton. The winner is honored at a banquet presented by KentuckyOne Health in late January in downtown Louisville. For more information, visit  www.paulhornungaward.com Fans can also follow online on Twitter (@hornungaward), on Instagram (@paulhornungaward) and Become a Fan on Facebook.
About Texas Roadhouse
Based in Louisville, Kentucky, Texas Roadhouse opened its doors in 1993. Texas Roadhouse has grown to more than 400 locations in 48 states. The company is famous for hand-cut steaks, made-from-scratch sides, fresh-baked bread and its lively atmosphere. In 2007 and 2008, Forbes magazine ranked the company as one of the 200 Best Small Companies and in 2009 the company was ranked "Best Value" by readers of Consumer Reports magazine. For more information, visit www.texasroadhouse.com.
About KentuckyOne Health
KentuckyOne Health was formed when two major Kentucky health care organizations came together in early 2012. KentuckyOne Health combines the Jewish and Catholic heritages of the two former systems – Jewish Hospital & St. Mary's HealthCare and Saint Joseph Health System. In late 2012, the organization formed a partnership with the University of Louisville Hospital | James Graham Brown Cancer Center.  The nonprofit system is committed to improving the health of Kentuckians by integrating medical research, education, technology and health care services wherever patients receive care. KentuckyOne Health has more than 200 locations including hospitals, physician groups, clinics, primary care centers, specialty institutes and home health agencies across the state of Kentucky and southern Indiana. KentuckyOne Health is the largest health system in Kentucky.
Louisville Sports Commission
The Louisville Sports Commission (LSC) is a Louisville, Kentucky-based 501(c)(3) organization whose mission is to create a legacy of economic and social vitality through sports. LSC attracts and hosts sporting events and activities that have a positive economic impact on Louisville, enhance the area's image as a premier sports destination, promote healthy lifestyles and improve the quality of life for community members of all ages. More information is available online at www.louisvillesports.org and www.facebook.com/louisvillesportscommission.