Notre Dame Fighting Irish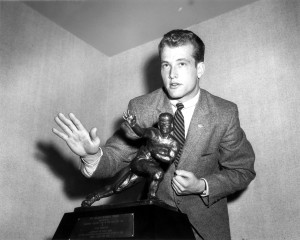 Paul Hornung was recruited to play football for the Fighting Irish after a stellar, three-sport career at Flaget High School in Louisville, Ky. He graduated from Notre Dame four years later as a Heisman Trophy winner and two-time All-American quarterback. In 2000, Hornung was named the top quarterback in Notre Dame history by Gannett News Service.
He was a sensation during the spring game his freshman year and was nicknamed "Golden Boy" by a Louisville sportswriter because of his golden locks, his golden touch with the football, and the Golden Dome at Notre Dame.
As a sophomore in 1954, Hornung played every position in the Notre Dame backfield as a substitute. He also played basketball for the Fighting Irish that year, averaging 6.1 points per game.
Hornung started at quarterback as a junior in 1955 and compiled 743 yards passing and 472 yards rushing. He finished the season ranked fourth nationally in total offense with 1,215 yards and led the Irish to wins over fourth-ranked Navy and a come-from-behind win over Iowa. A sequence in that memorable performance against the Hawkeyes provided a glimpse of Hornung's versatility and willingness to play any position to help his team win. With the Irish trailing 14-7 late in the game, he returned a kickoff into scoring position, threw a long touchdown pass, kicked the extra point, kicked off and made the tackle on the two yard line. Hornung played defense to hold Iowa, then drove the Irish down the field as the QB and kicked the winning field goal for the final 17-14 margin. Hornung threw for 354 yards in a loss to USC, the best mark by an individual in the NCAA that season. He finished fifth in the Heisman voting behind winner Howard "Hopalong" Cassady of Ohio State.
As a senior quarterback, Hornung ranked second nationally in total offense with 1,337 yards. He scored a career best 56 points during his final season, bringing his career total to 121. He led the Fighting Irish in passing, rushing, scoring, kickoff and punt returns, punting, field goals, PATs and passes broken up. He was second on the team in interceptions and tackles.
Hornung led the team to a 19-12 record during three years at Notre Dame, including two seasons with eight or more wins. He finished his Notre Dame career with 1,696 passing yards and 12 touchdowns. He ran for 1,051 yards, scored 15 touchdowns, 25 PAT's and two field goals during his three seasons of varsity play. He also registered 10 interceptions and had 23 kickoff returns for 663 yards.
Hornung was the 22nd winner of the Heisman Trophy in 1956. He is the only player in the 75-year history to win the award after playing for a team with a losing record. His 1956 team finished 2-8. He was the first player to win the award despite not leading in first place votes. He finished with 197 first place votes, eight shy of Tom McDonald's (Oklahoma) 205 votes. McDonald finished third; Tennessee's Johnny Majors was second. Hornung finished among the top two in voting in three of the five voting regions, including first in the Midwest. He also was named All-American following his senior campaign.