Trophy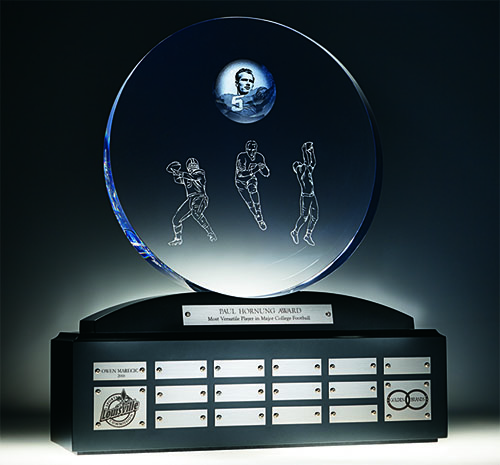 Paul Hornung's career on the football field reflected brilliance, versatility, and the highest quality.
Therefore, it is no surprise that Hornung chose Steuben crystal – American-made and the highest quality crystal in the world – as the medium in which to create the Paul Hornung Award Trophy, representing the most versatile player in major college football.
This one-of-a-kind trophy incorporates an 8.25" solid Steuben crystal disc displayed on a hand-worked walnut base finished in a dark onyx stain and highlighted with sterling silver plaques. The crystal disc in this trophy is emblazed with a spherical portrait of Hornung that appears to be floating internally in the sculpture. Below the portrait are three hand-engraved poses reflective of Hornung's diverse skills as a player: throwing, running and catching. The name of each winner is inscribed annually on the plaque adorning this iconic trophy. The recipient is awarded a smaller, individual version crafted in the same spirit as the original.
2023 Paul Hornung Award Ceremony