Green Bay Packers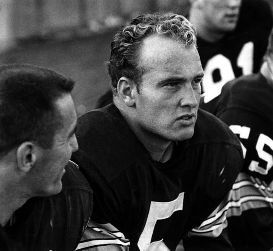 In 1957, the Green Bay Packers selected Paul Hornung with the first pick in the National Football League Draft with a supplemental pick, the start of his nine-year NFL career with the franchise. His pro career started slowly as he divided his time between fullback and quarterback his first two seasons for two different head coaches. That changed, however, when Vince Lombardi was named coach and he made Hornung his starting halfback in 1959.
Even though the Green Bay Packers had quality players at almost every position during the dynasty years of the 1960s, many insist that Hornung was the most important contributor to the Packers' successes.
Throughout his super-star career, Hornung was a dangerous threat to put points on the board. Said to have a nose for the end zone, he scored 760 points in nine seasons on 62 touchdowns, 190 PATs and 66 field goals. As his record clearly shows, Hornung did more than just score. He gained 3,711 yards rushing and 1,480 yards on pass receptions, was 24-55 passing for 383 yards and five touchdowns while throwing just four interceptions and returned ten kickoffs for 248 yards.
Hornung also was a superb blocker and highly effective on the halfback option pass. Known as "The Golden Boy," he was above all a leader to whom the Packers looked for the big plays in the big games.
He reached the zenith of his colorful NFL tenure with three exceptional seasons in 1959, 1960 and 1961. Hornung led the NFL in scoring each year and, in 1960, he posted a record 176 points on 15 touchdowns, 15 field goals and 41 extra points, a mark that would stand for nearly 46 years. He was named the NFL's MVP in 1961 after he ran for 597 yards and finished with 146 points and eight touchdowns, the second best total of his career. He was called to active duty in the US Army in 1961 to fulfill his requirements from ROTC at Notre Dame and obtained weekend passes to play in the games. Coach Lombardi arranged Christmas leave from the Army through the efforts of President John F. Kennedy in time for the 1961 NFL Championship Game where Hornung stunned the New York Giants with a record-smashing 19-point outburst as Green Bay won 37-0.
In 1965, he scored five touchdowns against the Baltimore Colts and scored the clinching touchdown in the championship game against the Cleveland Browns.
Hornung was a member of four NFL Championship teams as the Packers won titles in 1961, 1962 and 1965 and Super Bowl I in 1967. Hornung suited up for the Super Bowl but did not play due to a pinched nerve in his neck. He was the first player selected by the New Orleans Saints in the 1967 expansion draft but never played due to injury.
Hornung is one of just 13 players in NFL draft history who were selected first in the draft and gone on to earn election into the Pro Football Hall of Fame. He was a 1985 inductee into the National Football Foundation College Football Hall of Fame, 1986 inductee into the Pro Football Hall of Fame and 1975 inductee into the Kentucky Athletic Hall of Fame. Hornung is author of multiple books, including the 2006 release, "Lombardi and Me: Players, Coaches, and Colleagues Talk about the Man and the Myth" and the 2004 release, "Golden Boy."