Tyler Boyd and Todd Gurley Named to the Paul Hornung Award Honor Roll
November 17, 2014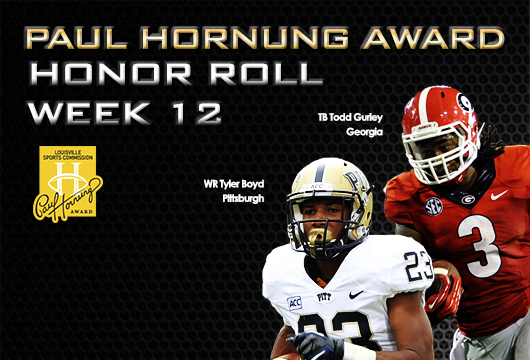 Gurley Leads Georgia to Big Win, Boyd's Pitt Panthers Lose Heartbreaker
Louisville, KY – Monday, November 17, 2014 – Pitt's Tyler Boyd and Georgia's Todd Gurley were named to the Paul Hornung Award Honor Roll following the 12th week of the college football season. Boyd tallied 224 all-purpose yards as his Panthers lost 40-35 to North Carolina in an ACC contest. Gurley returned to action after a four-game layoff to lead the Bulldogs to a 34-7 rout of Auburn before suffering a season-ending knee injury late in the game.
The announcement was made by the Louisville Sports Commission, owners and operators of the Paul Hornung Award, presented by Texas Roadhouse and given annually to the most versatile player in major college football. The winner and his family will be honored on January 27, 2015, at a banquet presented by KentuckyOne Health at the Galt House Hotel in downtown Louisville.
College football fans nationwide have the opportunity to cast their votes online for the Paul Hornung Award. Fans can vote as often as once every 24 hours at paulhornungaward.com for players who were on the preseason watch list and players who have been named to the Weekly Honor Roll selection. Voting will continue through November 17, 2014. Fans will then have the chance to vote for the winner from among the finalists in a second round of voting on November 20th.
Pittsburgh wide receiver Tyler Boyd touched the ball four different ways and accumulated 224 yards in the Panthers' narrow loss to the Tar Heels. On his birthday, Boyd had five catches for 160 yards and a TD, one carry for five yards, three kickoff returns for 53 yards and a punt return for one yard. This was his eighth career 100-yard receiving game and his third straight this season. Boyd is first on the team in receiving yards (951) and punt return yards (133) and is second on the team in kickoff return yards (160) and all-purpose yards (1,307).
Georgia tailback Todd Gurley led the charge in the upset of the Auburn Tigers. Gurley finished the game with 174 all-purpose yards: 29 carries for 138 yards and a TD; one catch for 16 yards and a kickoff return for 30 yards. He now has 36 career rushing TDs, moving him to number two in school history. Gurley also has 3,285, career rushing yards, the second-most in UGA history. This is Gurley's fourth time being named to the Honor Roll this season. The junior running back had just completed a four-game NCAA suspension for accepting money for autographs. Georgia's record is now 8-2 and 6-2 in the SEC.
Past Paul Hornung Award Honor Roll Selections:
Week One: Ishmael Adams (UCLA), Todd Gurley (Georgia), Ty Montgomery (Stanford), Frankie Williams (Purdue)
Week Two: Ameer Abdullah (Nebraska), Ty Montgomery (Stanford), Shaq Thompson (Washington), Jarvis West (Iowa State)
Week Three: Phillip Dorsett (Miami), Leonard Fournette (LSU), Scott Harding (Hawaii), Christion Jones (Alabama), Shaq Thompson (Washington)
Week Four: Ameer Abdullah (Nebraska), Alex Ross (Oklahoma)
Week Five: Ishmael Adams (UCLA), Todd Gurley (Georgia), Ty Montgomery (Stanford), Marcus Murphy (Missouri), Shaq Thompson (Washington)
Week Six: B.J. Catalon (TCU), Todd Gurley (Georgia), Dak Prescott (Mississippi State), Nick Vigil (Utah State)
Week Seven: B.J. Catalon (TCU), Corey Coleman (Baylor), Ty Montgomery (Stanford), Nick Vigil (Utah State)
Week Eight: Marcus Murphy (Missouri), Raheem Mostert (Purdue), Chad Voytik (Pittsburgh)
Week Nine: Ameer Abdullah (Nebraska), Patrick Towles (Kentucky), Nick Vigil (Utah State)
Week 10: Nelson Agholor (USC), Pharoh Cooper (South Carolina), Jamarcus Nelson (UAB)
Week 11: Jamison Crowder (Duke), Myles Jack (UCLA), Shaq Thompson (Washington)