Seven Players Earn Paul Hornung Award Honor Roll
October 25, 2021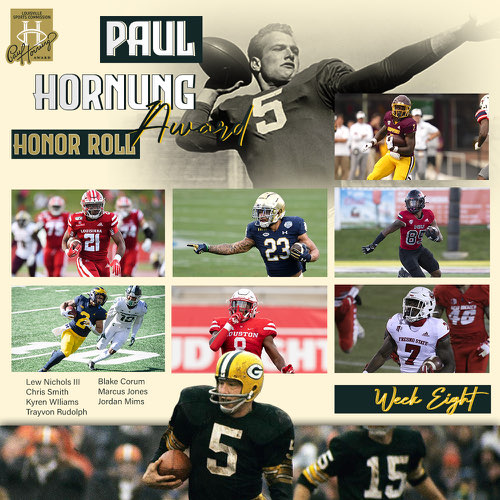 Blake Corum, Michigan; Marcus Jones, Houston; Lew Nichols III, Central Michigan; Jordan Mims, Fresno State; Trayvon Rudolph, Northern Illinois; Chris Smith, Louisiana; and Kyren Williams, Notre Dame earn PHA Weekly Honor Roll
Honorees Represent Big Ten, AAC, MAC, Mountain West, Sun Belt, plus one Independent
Louisville, Ky. – Oct. 25, 2021 –Seven players combined for 13 touchdowns three different ways on offense and seven tackles, an interception and a pass deflection on defense to earn the Paul Hornung Weekly Honor Roll in week eight of the college football season.
Making the Honor Roll this week are Blake Corum from Michigan, Marcus Jones from Houston, Lew Nichols III from Central Michigan, Jordan Mims from Fresno State, Trayvon Rudolph from Northern Illinois, Chris Smith from Louisiana and Kyren Williams from Notre Dame.
The Paul Hornung Award presented by Texas Roadhouse, now in its 12th season, is given annually to the most versatile player in major college football by the Louisville Sports Commission to pay tribute to football legend and Louisville native Paul Hornung, who passed away in Nov. 2020. The winner and his family will be honored at the annual Paul Hornung Award dinner at the Galt House Hotel in downtown Louisville on Mar. 8, 2022.
College football fans nationwide have the opportunity to vote for their favorite player during the regular season and again during the bowl season. Online fan voting powered by Texas Roadhouse is now open HERE and factors into the selection of the finalists and winner.
Michigan sophomore running back / return specialist Blake Corum touched the ball 24 times three different ways and scored twice as the unbeaten and no. 6-ranked Wolverines swamped Northwestern in Ann Arbor, 33-7. Corum's one-yard touchdown run opened the scoring and his five-yard scoring run in the third quarter posted UM to a 17-7 lead. He carried the ball 19 times for 199 yards and four first downs, and caught four passes for 20 yards and a first down. Corum added one kickoff return.
Houston senior corner back / return specialist Marcus Jones handled four punts and two kickoffs, including a 98-yard return for a score, made seven tackles and deflected a pass in the Cougars' 31-24, overtime win over East Carolina at home. In a game delayed five hours due to weather, Jones returned a kickoff 93 yards for a touchdown in the second quarter to erase a 10-3 ECU lead. He returned another kickoff 23 yards and returned two punts for no gain, fair caught a punt and returned another 11 yards.
Central Michigan freshman running back / all-purpose player Lew Nichols III touched the ball 30 times rushing, receiving and passing and scored twice as the Chippewas lost a heartbreaker at home to Northern Illinois, 39-38. Nichols opened the scoring with a 66-yard touchdown run, then added a one-yard scoring run late in the first quarter. He accounted 252 total yards and 10 first downs in the shootout – six rushing, four receiving and two passing.
Fresno State senior running back / return specialist Jordan Mims touched the ball 28 times three different ways and scored two different ways as the Bulldogs held off Nevada 34-32 at home. Mims carried the ball 23 times for 134 yards, caught four passes for 20 yards and handled one kickoff. He scored on a one-yard run in the first quarter and a seven-yard reception in the third quarter. Mims accounted for one first down receiving and five rushing, including two on the winning field goal drive.
Northern Illinois freshman wide receiver / return specialist Trayvon Rudolph touched the ball 10 times three different ways, scored two touchdowns and a two-point conversion as the Huskies overcame a 17-point deficit to win at Central Michigan, 39-38. Rudolph hauled in a 15-yard scoring pass late in the first half and caught a 75-yard bomb for a score in the third quarter. He caught two fourth down passes to convert first downs early in the game, then gained seven yards on a reverse on fourth and one on the winning field goal drive.
Louisiana sophomore running back / return specialist Chris Smith touched the ball 30 times for 319 all-purpose yards and two scores, including the game winner, as the Ragin Cajuns beat Arkansas State 28-27 on the road. Smith carried the ball 24 times for 238 yards, caught one pass and handled five kickoffs. He scored on a one-yard run late in the first half, then raced 80 yards for what proved to be the winning score with less than three minutes remaining. Smith accounted for 10 first downs rushing, two on the final drive to run out the clock.
Notre Dame sophomore running back / return specialist Kyren Williams touched the ball 32 times three different ways and scored twice as the Fighting Irish overcame cross country rival USC 31-16 in South Bend. Williams carried the ball 25 times for 135 yards and scored on a five-yard run late in the first half and on a one-yard run late in the third quarter. He caught four passes and fair caught one punt. Williams accounted for six first downs rushing and one first down receiving.
The Louisville Sports Commission successfully launched the Paul Hornung Award in 2010 to honor its namesake and native son, and to promote outstanding performances by versatile college football players who often go unnoticed. Each week during the regular season, a panel of college football experts selects players for the Paul Hornung Award Honor Roll based on performance. A national selection committee comprised of 17 sports journalists and former NFL stars votes for the Hornung Award finalists and the winner, with fan voting powered by Texas Roadhouse comprising the 18th vote. Regional accounting firm Dean Dorton independently tabulates all votes. For more information, visit www.paulhornungaward.com. Fans also can follow online on Twitter (@hornungaward) and Become a Fan on Facebook.
Previous Paul Hornung Award winners by year:
• 2020: DeVonta Smith of Alabama topped the nation in receiving yards and yards after catch, and averaged 24 yards per punt return leading the Crimson Tide to the national championship. He scored touchdowns rushing, receiving and returning punts and was a gunner on punt coverage.
• 2019: Lynn Bowden Jr. of Kentucky made the move from all-purpose receiver/wildcat quarterback/return specialist to quarterback in mid-season and led the Wildcats to a 5-2 record and Belk Bowl win over Virginia Tech.
• 2018: Rondale Moore of Purdue was a dynamic All-American freshman sensation who broke the school record for all-purpose yards in a season and a game with 2,215 and 313, respectively.
• 2017: Saquon Barkley of Penn State was an electrifying All-American running back who lined up at slot and wildcat quarterback, and returned kicks and punts;
• 2016: Jabrill Peppers of Michigan played 15 different positions on defense, offense and special teams, and earned first team All-America at linebacker;
• 2015: Christian McCaffrey of Stanford was a workhorse on offense and special teams who broke the NCAA record for all-purpose yards, finishing with 3,864;
• 2014: Shaq Thompson of Washington was a two-way player, earning first team All-American honors at linebacker and finished as the Husky's second-leading rusher at tailback;
• 2013: Odell Beckham Jr. of LSU finished the season ranked second in the nation and first in the Southeastern Conference with 2,222 all-purpose yards and 185.2 average yards per game;
• 2012: Tavon Austin of West Virginia earned All-American by scoring 17 touchdowns receiving, rushing, returning kicks and punts; and amassing 2,272 all-purpose yards, including 572 yards versus Oklahoma.
• 2011: Brandon Boykin of Georgia was a lockdown cornerback on defense; scored three touchdowns playing quarterback, running back and slot on offense; and led the SEC in punt and kick returns.
• 2010: Owen Marecic of Stanford was a two-way starter who averaged 110 snaps per game and earned first team All Pac-10 at fullback and honorable mention at linebacker.
Below are past winners and finalists who have made their mark in the NFL:
• Ameer Abdullah* RB; Nebraska / Detroit Lions, Minnesota Vikings
• Joe Adams WR; Arkansas / Carolina Panthers
• Antonio Andrews WR; Western Kentucky / Tennessee Titans
• Dri Archer RB; Kent State / Pittsburgh Steelers
• Tavon Austin RB; West Virginia / St. Louis, Los Angeles Rams, Dallas Cowboys, Green Bay Packers
• Saquon Barkley* RB; Penn State / New York Giants
• Odell Beckham Jr* WR; LSU / New York Giants, Cleveland Browns
• Lynn Bowden, Jr.* WR; Kentucky / Miami Dolphins
• Brandon Boykin CB; Georgia / Philadelphia Eagles, Pittsburgh Steelers, Baltimore Ravens
• Randall Cobb* WR; Kentucky / Green Bay Packers, Dallas Cowboys, Houston Texans
• D'Wayne Eskridge* WR; North Carolina / Seattle Seahawks
• Travis Etienne* RB; Clemson / Jacksonville Jaguars
• Clyde Edwards-Helaire* RB; LSU / Kansas City Chiefs
• Marcus Green WR; Louisiana-Monroe / Philadelphia Eagles
• Marion Grice RB; Arizona State / Arizona Cardinals
• KJ Hamler WR; Penn State / Denver Broncos
• N'Keal Harry* WR; Arizona State / New England Patriots
• Nyheim Hines* RB; NC State / Indianapolis Colts
• Myles Jack* LB; UCLA / Jacksonville Jaguars
• Adoree' Jackson* CB; USC / Tennessee Titans
• LaMichael James RB; Oregon / Miami Dolphins, San Francisco 49ers
• Jeremy Kerley WR; TCU / San Francisco 49ers, New York Jets, Buffalo Bills
• Joel Lanning LB; Iowa State / Dallas Cowboys
• Marqise Lee* WR; USC / Jacksonville Jaguars, New England Patriots
• Johnny Manziel QB; Texas A&M / Cleveland Browns
• Owen Marecic DB; Stanford / Cleveland Browns
• Christian McCaffrey* RB; Stanford / Carolina Panthers
• Ty Montgomery* RB; Stanford / Green Bay Packers, Baltimore Ravens, New York Jets, New Orleans Saints
• Marcus Murphy RB; Missouri / New Orleans Saints, Buffalo Bills, Carolina Panthers
• Robert Nkemdiche* DL; Ole Miss / Arizona Cardinals, Miami Dolphins, Seattle Seahawks
• Jabrill Peppers* DB; Michigan / Cleveland Browns, New York Giants
• Dante Pettis* WR; Washington / San Francisco 49ers
• Joe Reed* WR; Virginia / Los Angeles Chargers
• DeVonta Smith* WR; Alabama / Philadelphia Eagles
• Shaq Thompson* LB; Washington / Carolina Panthers
• Kadarius Toney* WR; Florida / New York Giants
• Dede Westbrook* WR; Oklahoma / Jacksonville Jaguars
*Currently active in NFL