Paul Hornung Award Week Four Honor Roll
September 22, 2014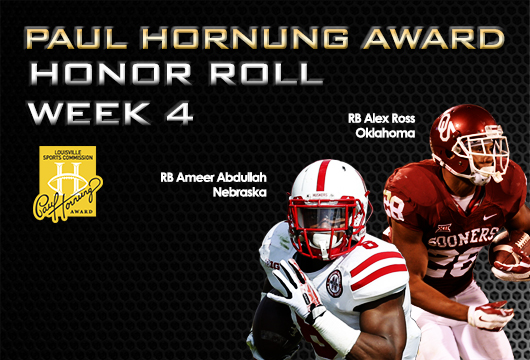 Duo Accounts for Big Yardage and Critical Scores Against Stiff Competition
Louisville, KY – Monday, September 22, 2014 – A duo from Midwest powerhouses– Nebraska Cornhusker Ameer Abdullah and Oklahoma Sooner Alex Ross – demonstrated versatility on offense and special teams, and tallied touchdowns at critical times to earn Paul Hornung Award Honor Roll selection in week four of the college football season.
The Paul Hornung Award, presented by Texas Roadhouse, is awarded annually to the most versatile player in major college football. The winner and his family will be honored in January 2015 at a banquet presented by KentuckyOne Health at the Galt House Hotel and Suites in downtown Louisville.
College football fans nationwide have the opportunity to cast their votes online for the Paul Hornung Award. Fans can vote as often as once every 24 hours at paulhornungaward.com for players who were on the preseason watch list and players who have been named to the Weekly Honor Roll selection. Voting will continue through November 17, 2014. Fans will then have the chance to vote for the winner from among the finalists in a second round of voting in late-November.
Nebraska running back Ameer Abdullah carried the Huskers to a 41-31 win over the Miami Hurricanes in Lincoln, Neb., with the biggest all-purpose yardage total of his career. Abdullah was the dominating factor in the game with a career-high 313 all-purpose yards, including 229 rushing yards and two scores on a career-high 35 carries. He added a three-yard touchdown reception in the second quarter and 81 yards on four kickoff returns to finish the night as Nebraska's career all-purpose yardage leader with 5,762 yards. Abdullah notched his second 200-yard rushing game of the season and his 313 all-purpose yards marked the second-best total in Husker history.
Oklahoma running back Alex Ross' 206 all-purpose yards, including a 100-yard kickoff return for a touchdown, helped lead the Sooner's charge to a 45-33 win over West Virginia in a Big 12 opener at Morgantown, W. Va. After the Mountaineers took a 24-17 lead late in the second quarter, Ross responded by returning the ensuing kickoff 100 yards for a touchdown. He finished the game with eight carries for 56 yards, three receptions for 19 yards and two kickoff returns for 131 yards. Ross' 131 kick return yards rank seventh all-time for a single game in OU history and he becomes just the sixth player in OU history to record a 100-yard play.
Past Paul Hornung Award Honor Roll Selections
Week One: Ishmael Adams (UCLA), Todd Gurley (Georgia), Ty Montgomery (Stanford), Frankie Williams (Purdue)
Week Two: Ameer Abdullah (Nebraska), Ty Montgomery (Stanford), Shaq Thompson (Washington), Jarvis West (Iowa State)
Week Three: Phillip Dorsett (Miami), Leonard Fournette (LSU), Scott Harding (Hawaii), Christion Jones (Alabama), Shaq Thompson (Washington)
 ###
Paul Hornung Award presented by Texas Roadhouse
Created by the Louisville Sports Commission in 2010, the Paul Hornung Award presented by Texas Roadhouse is given annually to the most versatile player in major college football. The Award is designed to promote college football and help preserve the legacy of one of Kentucky's best-known and accomplished athletes who has always called Louisville home. Hornung, the 1956 Heisman Trophy winner at Notre Dame and NFL MVP for the Green Bay Packers, set a single season NFL scoring record that stood 46 years. Hornung is a member of the College and Pro Football Halls of Fame, and Vince Lombardi once called Hornung, "The most versatile man ever to play the game." A national selection committee comprised of 16 sports journalists and former NFL stars votes for the Hornung Award, with fan voting powered by Texas Roadhouse comprising the 17th vote.  All votes are tabulated independently by regional accounting firm Dean Dorton. The winner is honored at a banquet presented by KentuckyOne Health in late January in downtown Louisville. For more information, visit  www.paulhornungaward.com Fans can also follow online on Twitter (@hornungaward), on Instagram (@paulhornungaward) and Become a Fan on Facebook.
About Texas Roadhouse
Based in Louisville, Kentucky, Texas Roadhouse opened its doors in 1993. Texas Roadhouse has grown to more than 400 locations in 48 states. The company is famous for hand-cut steaks, made-from-scratch sides, fresh-baked bread and its lively atmosphere. In 2007 and 2008, Forbes magazine ranked the company as one of the 200 Best Small Companies and in 2009 the company was ranked "Best Value" by readers of Consumer Reports magazine. For more information, visit www.texasroadhouse.com.
About KentuckyOne Health
KentuckyOne Health was formed when two major Kentucky health care organizations came together in early 2012. KentuckyOne Health combines the Jewish and Catholic heritages of the two former systems – Jewish Hospital & St. Mary's HealthCare and Saint Joseph Health System. In late 2012, the organization formed a partnership with the University of Louisville Hospital | James Graham Brown Cancer Center.  The nonprofit system is committed to improving the health of Kentuckians by integrating medical research, education, technology and health care services wherever patients receive care. KentuckyOne Health has more than 200 locations including hospitals, physician groups, clinics, primary care centers, specialty institutes and home health agencies across the state of Kentucky and southern Indiana. KentuckyOne Health is the largest health system in Kentucky.
Louisville Sports Commission
The Louisville Sports Commission (LSC) is a Louisville, Kentucky-based 501(c)(3) organization whose mission is to create a legacy of economic and social vitality through sports. LSC attracts and hosts sporting events and activities that have a positive economic impact on Louisville, enhance the area's image as a premier sports destination, promote healthy lifestyles and improve the quality of life for community members of all ages. More information is available online at www.louisvillesports.org and www.facebook.com/louisvillesportscommission.