LSU's Odell Beckham Jr. Named 2013 Paul Hornung Award Winner
May 16, 2014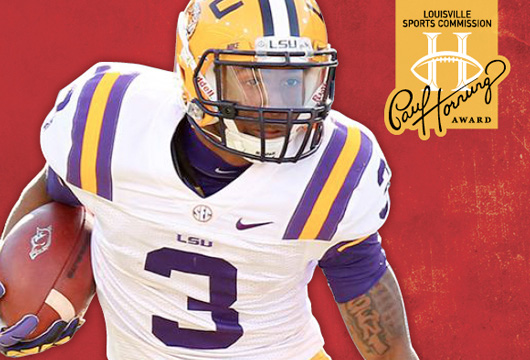 Standout Wide Receiver and Return Specialist Earns Most Versatile Player Honor
Louisville, KY – Friday, December 13, 2013 –
LSU junior Odell Beckham Jr., a gifted athlete who plays wide receiver, runs the ball and returns kick and punts, has been named winner of the 2013 Paul Hornung Award, presented by Texas Roadhouse. This year marks the fourth edition of the Paul Hornung Award, presented annually to the most versatile player in major college football. The announcement was made today by the Louisville Sports Commission and Paul Hornung.
Beckham and his family will be honored on Jan. 28, 2014, at the annual Paul Hornung Award Banquet presented by KentuckyOne Health at the Galt House Hotel in downtown Louisville.
Beckham excelled throughout 2013 as one of college football's most prolific all-purpose offensive and special teams players, ranking second in the nation and first in the Southeastern Conference with 2,222 all-purpose yards and 185.2 average yards per game. He was named first-team All-SEC by the league's coaches as an all-purpose player.
"Odell Beckham, Jr. brings the entire package as a versatile football player," said Gil Brandt, longtime NFL scouting guru and Paul Hornung Award Selection Committee member. "In my opinion, Beckham is the best college receiver in country and the best kick and punt returner in the country. He's a devastating blocker and has the speed and size to make outstanding plays in tough situations, which he demonstrated on a consistent basis in the big games in the toughest league in the country. He's also a quality individual with a terrific attitude and work ethic."
During the 2013 regular season, Beckham caught 57 passes for 1,117 yards and eight touchdowns, returned 30 kicks for 806 yards, returned 14 punts for 141 yards and carried the ball five times for 58 yards. He was fourth in the SEC in punt return average, fifth in receptions per game, fourth in receiving yards per game and third in kick return average.
"It's just an honor and a blessing to even be mentioned with the other guys who were up for the Hornung Award," Beckham said. "I am proud to accept the award and thank the committee for recognizing me. It means a lot to me personally because I have worked extremely hard, long before this season started. I had great teammates help me along the way, especially on kickoff and punt returns. None of the opportunities to display my versatility would have been possible if it weren't for my teammates and coaches who put me in a position to succeed."
In perhaps the most impressive measure of his versatility and team spirit, Beckham played the role of Johnny Manziel on the scout team offense during LSU's preparation for Texas A&M during an open week in the season. The Tiger defense held Manziel to less than 300 yards total offense and picked off two of his passes, by far his worst performance of the season, as LSU beat the Aggies 34-10.
"I love the way Odell Beckham plays the game," Hornung said. "He can run, catch, block and return kicks and plays with great determination. And he has my admiration for lining up on the scout team during the season to help his defense get better. That's how I played the game – doing anything I could to help my team win."
In addition to his consistent play against SEC opponents, Beckham's versatility was on full display in the first two games of the season against non-conference opponents where he amassed 603 all-purpose yards and scored four TDs. In the season opener, he led LSU to a 37-27 win over TCU in AT&T Stadium in Dallas with 272 all-purpose yards. Beckham carried the ball twice for 18 yards, caught five passes for 118 yards, and returned four kickoffs for 136 yards, averaging an astounding 34.0 yards per kickoff return. On Sept. 7 versus UAB, he recorded a season-high 331 all-purpose yards. He returned a missed field goal for a TD from nine yards deep in the end zone, caught five passes for 136 yards and three touchdowns, returned three punts and a kickoff for a combined 80 yards and carried the ball one time for 15 yards.
"I am excited for Odell to win this outstanding award," said LSU Offensive Coordinator Cam Cameron. "He's a tremendous representative of LSU and our football program, and we are thrilled to have him as a big part of our offense and returns teams. I have never been around a more versatile player, so this award is very fitting."
Beckham's 2,222 total all-purpose yards ranks third on the SEC's single-season list behind Randall Cobb (2,396 yards, Kentucky, 2010) and Darren McFadden (2,310 yards, Arkansas, 2007) and is an LSU single-season record.
Under the direction of head coach Les Miles, LSU finished the regular season 9-3 and 5-3 in the SEC, third in the SEC West. The regular season included a 14-point win over No. 2 Auburn and the blowout win over Texas A&M. LSU and Beckham close out their season in the Outback Bowl versus the Iowa Hawkeyes on Jan. 1 at 1 p.m. on ESPN.
Beckham was chosen as the Paul Hornung Award winner from among five finalists by a 16-member national Selection Committee comprised of sports journalists and retired NFL players and secured an additional first place vote from online fan voting. On Nov. 21, Beckham, Antonio Andrews (Western Kentucky), Marion Grice (Arizona State), Myles Jack (UCLA) and Johnny Manziel (Texas A&M) were named as Paul Hornung Award finalists. All votes were independently tabulated by regional accounting firm Dean Dorton, one of the largest accounting and advisory firms in Kentucky, with offices in Louisville and Lexington.
Owen Marecic of Stanford, a two-way starter and All Pac-10 performer at fullback and linebacker, won the inaugural Paul Hornung Award in 2010; Brandon Boykin of Georgia won the award in 2011 after excelling on defense, offense and special teams; Tavon Austin of West Virginia won the award in 2012 as one of two players in the nation with more than 500 yards in three different categories (rushing, receiving and kick returns). Past winners and finalists have made their mark in the NFL, including Marecic (San Francisco 49ers), Boykin (Philadelphia Eagles), Austin (St. Louis Rams), Kentucky's Randall Cobb (Green Bay Packers), Toledo's Eric Page (Tampa Bay Buccaneers), Oregon's LaMichael James (San Francisco 49ers) and TCU's Jeremy Kerley (New York Jets).
Paul Hornung Award presented by Texas Roadhouse
Created by the Louisville Sports Commission in 2010, the Paul Hornung Award presented by Texas Roadhouse is given annually to the most versatile player in major college football. The Award is designed to promote college football and help preserve the legacy of one of Kentucky's best-known and accomplished athletes who has always called Louisville home. Hornung, the 1956 Heisman Trophy winner at Notre Dame and NFL MVP for the Green Bay Packers, set a single season NFL scoring record that stood 46 years. Hornung is a member of the College and Pro Football Halls of Fame, and Vince Lombardi once called Hornung, "The most versatile man ever to play the game." A national selection committee comprised of 16 sports journalists and former NFL stars votes for the Hornung Award, with fan voting powered by Texas Roadhouse comprising the 17th vote. All votes are tabulated independently by regional accounting firm Dean Dorton. The winner is honored at a banquet presented by KentuckyOne Health in late January in downtown Louisville. For more information, visit www.paulhornungaward.com Fans can also follow online on Twitter (@hornungaward) and Become a Fan on Facebook.
Texas Roadhouse
Based in Louisville, Kentucky, Texas Roadhouse opened its doors in 1993. Texas Roadhouse has grown to more than 400 locations in 48 states. The company is famous for hand-cut steaks, made-from-scratch sides, fresh-baked bread and its lively atmosphere. In 2007 and 2008, Forbes magazine ranked the company as one of the 200 Best Small Companies and in 2009 the company was ranked "Best Value" by readers of Consumer Reports magazine. For more information, visit www.texasroadhouse.com.
KentuckyOne Health
KentuckyOne Health was formed when two major Kentucky health care organizations came together in early 2012. KentuckyOne Health combines the Jewish and Catholic heritages of the two former systems – Jewish Hospital & St. Mary's HealthCare and Saint Joseph Health System. In late 2012, the organization formed a partnership with the University of Louisville Hospital | James Graham Brown Cancer Center. The nonprofit system is committed to improving the health of Kentuckians by integrating medical research, education, technology and health care services wherever patients receive care. KentuckyOne Health has more than 200 locations including hospitals, physician groups, clinics, primary care centers, specialty institutes and home health agencies, with nearly 15,000 employees across the state of Kentucky and southern Indiana. KentuckyOne Health is the largest health system in Kentucky.
Louisville Sports Commission
The Louisville Sports Commission (LSC) is a Louisville, Kentucky-based 501(c)(3) organization whose mission is to create a legacy of economic and social vitality through sports. LSC attracts and hosts sporting events and activities that have a positive economic impact on Louisville, enhance the area's image as a premier sports destination, promote healthy lifestyles and improve the quality of life for community members of all ages. More information is available online at www.louisvillesports.org and www.facebook.com/louisvillesportscommission.