Catalon, Prescott and Gurley Named to Week Six Paul Hornung Award Honor Roll
October 6, 2014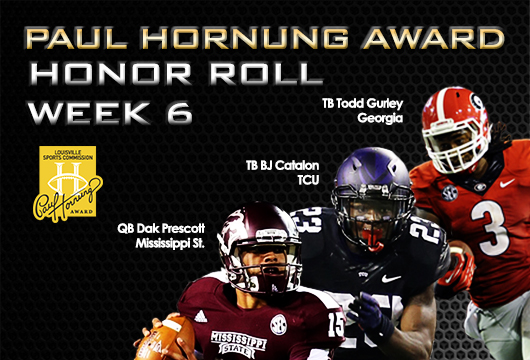 Trio Lead their Teams to Conference Wins and Lofty National Rankings
Louisville, KY – Monday, October 6, 2014 – B.J. Catalon from TCU, Todd Gurley from Georgia and Dak Prescott from Mississippi State earned the Paul Hornung Award Honor Roll in week six by leading their teams to conference wins, top 15 rankings and contention in their respective conference standings.
The announcement was made by the Louisville Sports Commission, owners and operators of the Paul Hornung Award, which is presented by Texas Roadhouse. The Award is presented annually to the most versatile player in major college football. The winner and his family will be honored in January 2015 at a banquet presented by KentuckyOne Health at the Galt House Hotel and Suites in downtown Louisville.
College football fans nationwide have the opportunity to cast their votes online for the Paul Hornung Award. Fans can vote as often as once every 24 hours at paulhornungaward.com for players who were on the preseason watch list and players who have been named to the Weekly Honor Roll selection. Voting will continue through November 17, 2014. Fans will then have the chance to vote for the winner from among the finalists in a second round of voting in late-November.
TCU tailback B.J. Catalon earned his first Honor Roll selection by leading the Horned Frogs with 144 all-purpose yards and two touchdowns in a 37-33 upset win against number four-ranked Oklahoma Sooners in Ft. Worth. Catalon carried the ball 11 times for 48 yards and a touchdown, caught a pass for 39 yards and a touchdown, and returned a kickoff return for 57 yards. His 39-yard TD reception was his first scoring reception of the year and the second of his career. Catalon is the first TCU player with a rushing and receiving touchdown in the same game since 2012. TCU is 1-0 in the Big 12 and 4-0 on the season.
Georgia tailback Todd Gurley earned his third Honor Roll selection by helping the Bulldogs cruise to a 44-17 win over Vanderbilt on Homecoming weekend in Athens. Gurley had 25 carries for 163 yards and two touchdowns, and two receptions for 24 yards. He also recorded his first career pass with a 50-yard toss to freshman TE Jeb Blazevich. Gurley finished the game with 237 yards of total offense. He is now one of only four Bulldogs to have 3,000-plus yards rushing in his career with 3,147. The Bulldogs are 2-1 in the SEC East and 4-1 on the season.
Mississippi State quarterback Dak Prescott earned his first Honor Roll selection with five touchdowns, three rushing and two passing, and 347 yards of total offense in a 48-31 win over number six-ranked Texas A&M. Prescott complete 19 of 25 passes for 259 yards, ran the ball 23 times for 77 yards and caught a pass for 11 yards. His 50 total touchdowns accounted for are two shy of tying Don Smith's school record of 52 set from 1983-86. The Bulldogs are in a three-way tie atop the tough SEC West at 2-0 and are 5-0 on the season.
Past Paul Hornung Award Honor Roll Selections
Week One: Ishmael Adams (UCLA), Todd Gurley (Georgia), Ty Montgomery (Stanford), Frankie Williams (Purdue)
Week Two: Ameer Abdullah (Nebraska), Ty Montgomery (Stanford), Shaq Thompson (Washington), Jarvis West (Iowa State)
Week Three: Phillip Dorsett (Miami), Leonard Fournette (LSU), Scott Harding (Hawaii), Christion Jones (Alabama), Shaq Thompson (Washington)
Week Four: Ameer Abdullah (Nebraska), Alex Ross (Oklahoma)
Week Five: Ishmael Adams (UCLA), Todd Gurley (Georgia), Ty Montgomery (Stanford), Marcus Murphy (Missouri), Shaq Thompson (Washington)