44 Players Named to 2015 Paul Hornung Award Watch List
July 6, 2015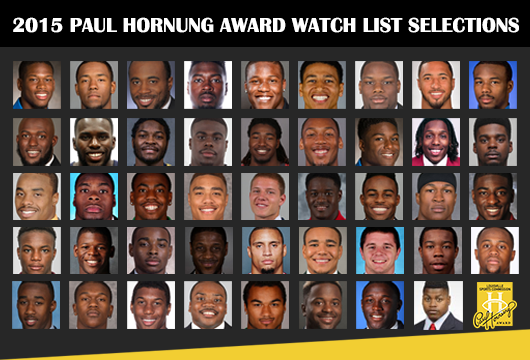 Players accounted for 47,000 all-purpose yards, 588 tackles and 211 TDs in 2014
Louisville, KY. — Monday, July 6, 2015 — The Louisville Sports Commission today named 44 multi-talented college football players to the 2015 Watch List for the Paul Hornung Award presented by Texas Roadhouse.
The Paul Hornung Award, now in its sixth season, is given annually to the most versatile player in major college football by the Louisville Sports Commission and football legend and Louisville native Paul Hornung, the Golden Boy. The winner and his family will be honored at the annual Paul Hornung Award Banquet presented by KentuckyOne Health, to be held at the Galt House Hotel in downtown Louisville in February 2016.
The 2015 Watch List was compiled by a panel of college football experts based on a combination of 2014 statistics, career performance, SID recommendations and expectations heading into the 2015 season. Profiles of each player and information about the Award can be found at www.paulhornungaward.com. Players may be added to the Watch List during the 2015 regular season based on performance.
The Paul Hornung Award Watch List contains 18 of the top 100 all-purpose players from 2014 according to yards-per-game average from ncaa.com. The Watch List also includes four players who participated in the inaugural College Football Playoff Championship Game: Jalin Marshall and Dontre Wilson from Ohio State, and Byron Marshall and Charles Nelson from Oregon.
"I'm ecstatic that the Paul Hornung Award has gained national prominence in such a short time," said Paul Hornung, the 1956 Heisman Trophy winner who played every position in the offensive backfield during his Notre Dame career and was a triple threat halfback for the title town Green Bay Packers of the early 1960s. "The quality of our winners, finalists and weekly honorees has been impressive, and I'm pleased that we are able to acknowledge outstanding players who contribute any way possible to help their teams win, the way I did with Notre Dame and the Green Bay Packers."
"I look forward to following the players on our Watch List during the upcoming season and enjoy watching many of our winners and finalists from the first five years as they make their marks in the NFL," continued Hornung who maintains an office in downtown Louisville and continues making appearances and public speaking. Hornung won the Heisman Trophy as a quarterback and earned NFL MVP honors for the Green Bay Packers in 1961, setting a single-season NFL scoring record rushing, receiving, passing and kicking that stood 46 years. He is a member of the College and Pro Football Halls of Fame, and Vince Lombardi once called him, "The most versatile man ever to play the game."
The Watch List is comprised of 11 seniors, 22 juniors and 11 sophomores who start at a total of eight different positions and represent 40 universities and all 10 conferences that are part of the NCAA Football Bowl Subdivision (FBS). The Pac-12 leads the conferences with eight players followed by the ACC and Big Ten with seven players and the SEC with six players.
Players on this year's Paul Hornung Award Watch List accounted for 9,606 rushing yards, 16,565 receiving yards, 17,941 kickoff return yards, 4,088 punt return yards and 588 total tackles in 2014. Reminiscent of Hornung during his playing days, members of the Watch List demonstrated a knack for scoring numerous ways. Last season the Watch List players combined for 211 total touchdowns in seven different ways – passing, rushing, receiving, punt return, kickoff return, interception and fumble recovery/fumble return.
2015 Watch List Selections
Ishmael Adams, UCLA
Budda Baker, Washington
V'Angelo Bentley, Illinois
Rashon Ceaser, Louisiana Monroe
Pharoh Cooper, South Carolina
Trevor Davis, California
Matt Dayes, N.C. State
Cameron Echols-Luper, TCU
DeVon Edwards, Duke
Tyler Ervin, San Jose State
Leonard Fournette, LSU
Autrey Golden, UTEP
Jamal Golden, Georgia Tech
Jakeem Grant, Texas Tech
Janarion Grant, Rutgers
Carlos Harris, North Texas
Carlos Henderson, Louisiana Tech
Myles Jack, UCLA
Adoree' Jackson, USC
Corey Jones, Toledo
Isaiah Jones, East Carolina
William Likely, Maryland
T.J. Logan, North Carolina
Byron Marshall, Oregon
Jalin Marshall, Ohio State
Christian McCaffrey, Stanford
Elijah McGuire, Louisiana Lafayette
Isaiah McKenzie, Georgia
Ronnie Moore, Bowling Green
Teldrick Morgan, New Mexico State
Charles Nelson, Oregon
Speedy Noil, Texas A&M
Daz'Mond Patterson, Ohio
De'Mornay Pierson-El, Nebraska
James Quick, Louisville
Alex Ross, Oklahoma
R.J. Shelton, Michigan State
Ryan Switzer, North Carolina
Jahad Thomas, Temple
Jaylen Walton, Ole Miss
Shane Williams- Rhodes, Boise State
Stanley Williams, Kentucky
Myles Willis, Boston College
Dontre Wilson, Ohio State
A panel of college football experts selects players for the Paul Hornung Award Honor Roll based on performance each week during the season. A national selection committee comprised of 16 sports journalists and former NFL stars votes for the Hornung Award finalists and the winner, with fan voting powered by Texas Roadhouse comprising the 17th vote.  Regional accounting firm Dean Dorton independently tabulates all votes. The winner is honored at a banquet presented by KentuckyOne Health in late February in downtown Louisville. For more information, visit www.paulhornungaward.com. Fans can also follow online on Twitter (@hornungaward) and Become a Fan on Facebook.
The Louisville Sports Commission successfully launched the Paul Hornung Award in 2010 to honor its namesake and native son, and to promote outstanding performances by versatile college football players who often go unnoticed. Owen Marecic of Stanford, a two-way starter and All Pac-10 performer at fullback and linebacker, won the inaugural Paul Hornung Award in 2010; Brandon Boykin of Georgia won the award in 2011 after excelling on defense, offense and special teams; Tavon Austin of West Virginia won the award in 2012 as one of two players in the nation with more than 500 yards in three different categories (rushing, receiving and kick returns); Odell Beckham Jr. of LSU won the award in 2013 after finishing the season ranked second in the nation and first in the Southeastern Conference with 2,222 all-purpose yards and 185.2 average yards per game; and Shaq Thompson of Washington won the award in 2014 as a two-way player, earning first team All-America honors at linebacker and finishing as the Husky's second-leading rusher at tailback. Thompson scored six touchdowns – two on offense and four on defense.
Past winners and finalists who have made their mark in the NFL or are beginning their careers in 2015 include: Boykin (Philadelphia Eagles), Austin (St. Louis), Beckham Jr. (New York Giants), Thompson (Carolina), Kentucky's Randall Cobb (Green Bay), Oregon's LaMichael James (Miami), TCU's Jeremy Kerley (New York Jets), Kent State's Dri Archer (Pittsburgh), Arizona State's Marion Grice (Arizona), Texas A&M's Johnny Manziel (Cleveland), Nebraska's Ameer Abdullah (Detroit), Stanford's Ty Montgomery (Green Bay) and Missouri's Marcus Murphy (New Orleans).
Texas Roadhouse signed on as presenting sponsor of the Paul Hornung Award in 2011 and will team with the Louisville Sports Commission to power fan voting again this season. College football fans nationwide will have the opportunity to vote for their favorite player during the regular season and again during the bowl season. Fan voting will open in late September and factor into the selection of the finalists and winner.