Three on Defense and One on Offense Headline First Honor Roll of the Season
September 8, 2015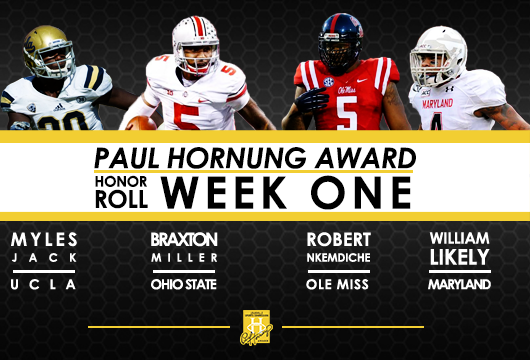 Sixth-Year Award Highlights Most Versatile Player in Major College Football
Louisville, KY – Tuesday, September 8, 2015 – For the first time in the six-year history of the Paul Hornung Award, three defensive players have been named to the Award's Weekly Honor Roll, and a multi-position offensive performer from the defending national champions joined the trio. LB Myles Jack (UCLA) and DT Robert Nyemdiche (Ole Miss) scored on offense; DB William Lucky (Maryland) scored on a punt return; and QB / HB Braxton Miller (Ohio State) scored rushing and receiving during the opening weekend of the 2015 college football season.
The Paul Hornung Award, presented by Texas Roadhouse, is awarded annually to the most versatile player in major college football. The winner and his family will be honored in February 2016 at a banquet presented by KentuckyOne Health at the Galt House Hotel in downtown Louisville, KY.
Week One Honorees:
Maryland's CB William Likely recorded Big Ten and Maryland records in single-game punt return yards and made big contributions on defense during Saturday's 50-21 victory over Richmond. Likely returned eight punts for 233 yards (29.1 avg.), surpassing a Big Ten record that stood since 1939. He returned a punt 67 yards for a touchdown and returned two kickoffs for 63 yards. On defense, Likely had four tackles, including one tackle for a loss of a yard, and made two pass breakups. He finished the day with 296 all-purpose yards.
UCLA's Myles Jack, a 2013 Paul Hornung Award Finalist at LB / RB, showed his versatility in a 34-16 win over Virginia by recording his 11th offensive touchdown of his career and playing linebacker on defense. Jack's one-yard touchdown in the third quarter helped the Bruins pull away from the Cavaliers with a 24-9 lead and win the home team's fifth straight season opener at the Rose Bowl. Additionally, Jack had seven tackles on defense, which assisted in keeping Virginia under 100 net rushing yards for the game.
Ohio State's Braxton Miller, a 6-2, 225 QB/ HB, scored twice in the third quarter at two different positions during the Buckeye's 42-17 win at Virginia Tech. Miller caught a 54-yard TD pass at wide receiver for what proved to be the winning score and moments later made an electrifying 53-yard TD run at quarterback to put the game out of reach. Miller gained 140 all-purpose yards at WR, HB and QB with six carries for 62 yards rushing and one TD and two receptions for 78 yards and a TD.
Ole Miss' Robert Nkemdiche, a 6-4, 296 pound defensive tackle contributed to Ole Miss' 76-3 onslaught against UT Martin catching a touchdown from QB Ryan Buchanan. Nkemdiche, who was lined up at tight end, rumbled 31 yards to the end zone to put the Rebels up 34-0 in the second quarter. It was Nkemdiche's first career reception and touchdown. From his DT position, he added three tackles, a blocked field goal and a QB hit.