Honor Roll Selections Combine for More than 1,100 Offensive Yards and Nine TDs
October 19, 2015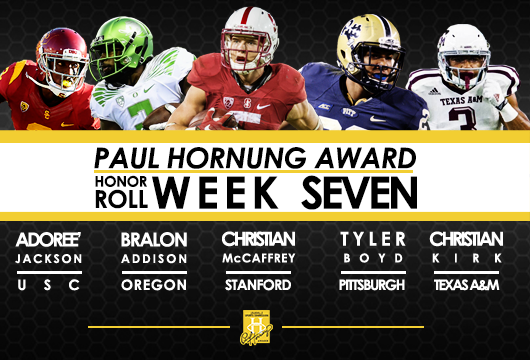 Three Players from Pac-12, one from ACC and SEC Comprise Week Seven List
Louisville, Ky. – Monday, October 19, 2015 – Four offensive / special teams standouts and a cornerback who plays both sides of the ball combined for 1,154 all-purpose yards, nine touchdowns and touched the ball seven different ways – passing, rushing, receiving, punt return, kickoff return, tackle and forced fumble to earn the Paul Hornung Award Honor Roll exemplifying their versatility.
The Paul Hornung Award, presented by Texas Roadhouse, is awarded annually to the most versatile player in major college football. The winner and his family will be honored on February 25, 2016, at a banquet presented by KentuckyOne Health at the Galt House Hotel in downtown Louisville, Ky.
Oregon wide receiver Bralon Addison excelled on offense and special teams for the Ducks in their 26-20 win at Washington, touching the ball four different ways and finishing the game with 229 all-purpose yards. He ran the ball four times for 15 yards and one touchdown, had five catches for 78 yards, three punt returns for 30 yards and two kickoff returns for 106 yards, including an 87-yard return early in the game. Addison is second on the team averaging 104.4 all-purpose yards per game and has five touchdowns on the season – three receiving, one passing and one rushing.
Pittsburgh wide receiver Tyler Boyd contributed to Pitt's dramatic 31-28 win at Georgia Tech as a runner, receiver, passer and return man. He caught two touchdown passes and had a game-high eight receptions for 68 yards. Boyd also carried the ball five times for 26 yards, completed a 29-yard pass to set up a Pitt touchdown and added a 31-yard kickoff return. He made a critical five-yard catch to convert a fourth-and-two on the Panther's game-winning field goal drive. With the win, Pittsburgh remains in first place in the ACC Coastal division with a 3-0 conference record and 5-1 overall record.
USC cornerback Adoree' Jackson played on both sides of the ball in the Trojans' 41-31 loss at Notre Dame. Jackson finished the game with 193 all-purpose yards – nine rush yards, 83 receiving yards and 101 kickoff returns yards. With 3:17 left in the second quarter, USC QB Cody Kessler hit Jackson with an inside screen and he bolted 83 yards to tie the game at 24. On defense, he had three tackles and one forced fumble. Jackson is second on the team averaging 118.0 all-purpose yards per game and has 14 tackles, one pass break-up, one pass deflection and one forced fumble on the season.
Texas A&M true freshman wide receiver Christian Kirk amassed 212 all-purpose yards – the third 200-plus yard game of his six-game career – in a 41-23 loss to Alabama. Kirk had 11 rushing yards, caught seven passes for 90 yards, returned a kickoff 25 yards and returned four punts for 86 yards, including a dramatic 68-yard punt return for a touchdown in the second quarter. Kirk is currently ranked fourth in the FBS with 195.0 all-purpose yards per game, and his 1,170 all-purpose yards this season ranks seventh on the Aggies' single-season chart.
Stanford running back Christian McCaffrey led the Cardinal to a 56-35 win over UCLA with 369 all-purpose yards and four touchdowns. McCaffrey set Stanford's single-game rushing record with 243 yards on 25 carries and four touchdowns. He also ran back two kickoffs for 122 yards, including a 96-yard return that set up the second Cardinal touchdown, and caught one pass for four yards. McCaffrey's 369 all-purpose yards are the most by an FBS player this season and he leads the FBS in all-purpose yards per game with 253.0. Stanford remains atop the Pac-12 East with a 4-0 conference record and a 5-1 record overall.
Past Paul Hornung Award Honor Roll Selections
Week One: William Likely (Maryland), Myles Jack (UCLA), Braxton Miller (Ohio State), Robert Nkemdiche (Ole Miss)
Week Two: Kenyan Drake (Alabama), Janarion Grant (Rutgers), Jahad Thomas (Temple), Brandon Wilson (Houston)
Week Three: William Likely (Maryland), Christian McCaffrey (Stanford), Jakeem Grant (Texas Tech), Ryan Switzer (North Carolina)
Week Four: Trevone Boykin (TCU), Adoree' Jackson (USC), Christian Kirk (Texas A&M), Christian McCaffrey (Stanford), Robert Nkemdiche (Ole Miss)
Week Five: Christian McCaffrey (Stanford), KaVontae Turpin (TCU)
Week Six: Tyler Ervin (San Jose State), Reggie Davis (Georgia)