Defensive Back, Running Back and Wide Receivers Earn Paul Hornung Honor Roll
September 21, 2015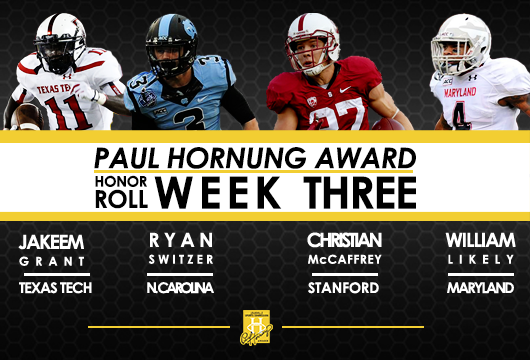 Week Three Paul Hornung Award Honorees Hail from ACC, Pac-12, Big Ten and Big 12
Louisville, KY – Monday, September 21, 2015 – Three offensive skill players and one defensive back combined for almost 800 all-purpose yards and scored TDs three different ways – receiving, punt return and passing – to earn the Paul Hornung Award Honor Roll exemplifying their versatility on the field. Wide receivers Jakeen Grant (Texas Tech), Ryan Switzer (North Carolina) and running back Christian McCaffrey (Stanford) are newcomers to the Honor Roll, while defensive back William Likely (Maryland) made the list for the second time this season. All three played big roles in their teams' victories over the weekend.
The Paul Hornung Award, presented by Texas Roadhouse, is awarded annually to the most versatile player in major college football. The winner and his family will be honored on February 25, 2016, at a banquet presented by KentuckyOne Health at the Galt House Hotel in downtown Louisville, Ky.
Stanford running back Christian McCaffrey led the Cardinals to a huge 41-31 win over Pac-12 rival USC at the Coliseum on Saturday. McCaffrey showed his versatility racking up 249 all-purpose yards and touching the ball three different ways. He carried the ball 26 times for 115 yards, caught three passes for 37 yards and returned five kickoffs for 97 yards. McCaffrey is averaging 195.3 all-purpose yards per game this season, which is ranked first in the Pac-12 and fourth in the FBS. His 249 yards was Stanford's most since 2014 Paul Hornung Award finalist, Ty Montgomery, had 296 yards at Utah in Oct. 2013.
Maryland defensive back William Likely is on the Honor Roll for the second time this year for his combined performance on special teams and on defense in a 35-17 win over South Florida. Likely returned two punts for 20 yards and three kickoffs for 90 yards. Additionally, he had four tackles, one tackle for a loss of four yards and one pass breakup versus the Bull's offense.
Texas Tech wide receiver Jakeem Grant threw for a touchdown, caught passes and returned kickoffs in the Red Raiders' win over the SEC's Arkansas Razorbacks. Grant completed his first career pass to Reginald Davis on a trick play for a 72-yard touchdown. He also caught eight passes for 75 yards and returned four kickoffs for 63 yards.This season, Grant has accounted for touchdowns throwing, receiving and returning a kickoff. He is believed to be the first player in Texas Tech history to do so.
North Carolina wide receiver Ryan Switzer helped the Tar Heels rout the Big 10's Illinois Fighting Illini 48-14 with two touchdowns and 210 all-purpose yards. Switzer caught three passes for 50 yards and a touchdown, and returned five punts for 168 yards and another touchdown. He also carried the ball one time. His 85-yard punt return touchdown was his sixth-career punt return touchdown and extended his own school record. Switzer's 34-yard reception for a touchdown was his first touchdown catch of the season and the eighth of his career.
Past Paul Hornung Award Honor Roll Selections
Week One: William Likely (Maryland), Myles Jack (UCLA), Braxton Miller (Ohio State), Robert Nkemdiche (Ole Miss)
Week Two: Kenyan Drake (Alabama), Janarion Grant (Maryland), Jahad Thomas (Temple), Brandon Wilson (Houston)
The Louisville Sports Commission successfully launched the Paul Hornung Award in 2010 to honor its namesake and native son, and to recognize and reward high-level achievers in college football whose performances and contributions as versatile players often go unnoticed. Owen Marecic of Stanford, a two-way starter and All Pac-10 performer at fullback and linebacker, won the inaugural Paul Hornung Award in 2010; Brandon Boykin of Georgia won the award in 2011 after excelling on defense, offense and special teams; Tavon Austin of West Virginia won the award in 2012 as one of two players in the nation with more than 500 yards in three different categories (rushing, receiving and kick returns); Odell Beckham Jr. of LSU won the award in 2013 after finishing the season ranked second in the nation and first in the Southeastern Conference with 2,222 all-purpose yards and 185.2 average yards per game; and Shaq Thompson of Washington won the award in 2014 as a two-way player, earning first team All-America honors at linebacker and finishing as the Husky's second-leading rusher at tailback.