Louisville Indoor Games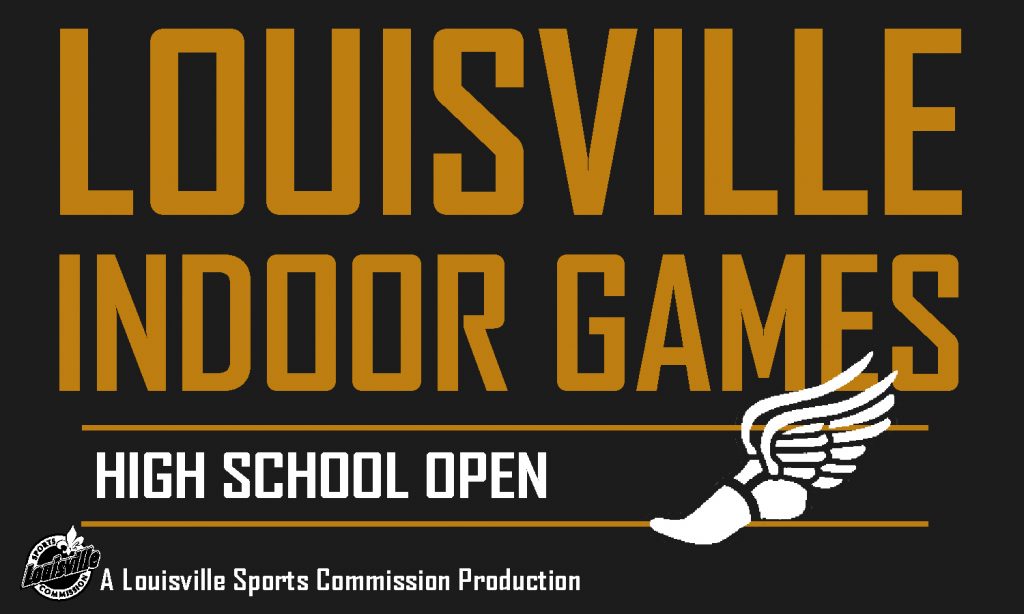 General Information
The Louisville Indoor Games will be held on Feb. 4, 2023, at the Norton Healthcare Sports & Learning Center. This event is open to high school athletes.
Doors open at 7 a.m. for coach and athlete check-in and 8 a.m. for spectator admission. The meet begins at 9 a.m.
Use the below address to find the meet location using GPS:

Norton Healthcare Sports & Learning Center
3029 West Muhammad Ali Blvd.
Louisville, KY 40212
Registration
Registration is now CLOSED.

Races will be seeded according to times.
Coaches
Coaches are not allowed on the competition floor.
Coaches must have a wristband credential to enter the building. These will be provided at team check-in. The number of credentials provided is based on the number of registered athletes on a team as follows: 2-5 athletes – 1 credential; 6-10 athletes – 2 credentials; 11-15 athletes – 3 credentials; 16+ athletes – 4 credentials.
NOTE: Coaches credentials will not be provided for unattached athletes.
Spectators
Spectator tickets will be sold on a first-come, first-served basis. Admission is $15 per person for an all-day pass. Tickets will go on sale on Jan. 1 at 9 a.m. ET. Click HERE to purchase tickets.
Preferred Hotels
For teams traveling from out-of-town, the Holiday Day Inn Express, 800 W. Market Street, is offering a special rate for those attending the Louisville Indoor Games. For more information on how to secure the rate, contact Nick Kopka at nkopka@louisvillesports.org.
Live Stream
For anyone who is not able to watch the competition inside the facility, you can watch the event LIVE on Milesplit. Click Here to join the stream with Milesplit PRO.
Concierge Table
Louisville Tourism will staff a concierge table located near the lobby area to provide information regarding local restaurants, attractions etc. For advance community information, click HERE.
Event Merchandise
Custom-made event merchandise will be available to purchase on-site.
Parking
Buses will be directed to designated parking areas by facility personnel. Bus parking is free. Parking for vans and cars is available on-site for $5 a vehicle. An in-and-out parking pass is available for $10; please let the parking attendant know if you want this type of pass. Van and car parking is only available in Lot A; access is off of Muhammad Ali Blvd.
Order of Running Events
Doors open at 7 a.m. for coach and athlete check-in; meet start time is at 9 a.m. This meet will have a rolling schedule.
60 meter dash (prelims)
60 meter hurdles (prelims)
4×800 meter relay
60 meter hurdles – finals
60 meter dash – finals
-Raise Track-
1 mile run
4×200 (high school only)
400 meter dash
800 meter run
200 meter dash
4×400 meter relay
2 mile run
Order of Field Events
Doors open at 7 a.m. for coach and athlete check-in; field events will follow the below schedule.
Boys' shot put followed by girls' shot put
Boys' and girls' long jump
Boy's high jump followed by girls' high jump
Boys' and girls' triple jump
Girls pole vault followed by boys' pole vault
Spikes
Only 1/4″ spike are allowed.
Athletes must go through spike-check to have spikes tagged prior to entering the facility. Spike-check will be located in the tent adjacent to the main entrance.
Spikes are only permitted on the competition floor.
Wearing spikes is not allowed on the concourse or in the stands.
Team Camps
All teams may establish a team camp in the area designated on the mezzanine level located at the north end of the facility.
Safety Policy
The use of headphones and cell phones are only permitted in the team camp area. No bags are allowed on the track or in the warmup area.
Cell phones will not be allowed on the arena floor.
Hydration
There will be no post-race hydration provided. Please make sure to bring your own water or hydration. Only water will be allowed near the track or other competition areas.
There are water fountains in the facility as well as concessions available for purchase.
Pre-Race Guidelines
Athletes must report to the clerking area when names are called over public address system. Any athlete who does not report by second call will be scratched from the event.
Athletes are asked to practice social distancing during warm-up activities. There is a 400-meter outdoor track adjacent to the facility, and runners are encouraged to warm up outdoors as much as possible. Sprint warm-up lanes will be available indoors below the mezzanine at the north end of the track.
No substitutions or race day additions will be allowed. Athletes must wear bib number on front of uniform, clearly visible. Hip/Lane numbers (if applicable) shall be worn on the left chest and left hip, clearly visible and not obstructed by uniform.
Post-Race Guidelines
It is important that all athletes exit the track once their event is finished. Finish line officials will guide athletes to the exit.
Meet management medical staff will be on-site at all times. If a medical emergency occurs, team trainers will be allowed in to attend to their school's athlete.
Results
For live meet results, click HERE. Overall meet results can be found HERE.
Packet Pickup
Packet pickup will open at 7 a.m. on the day of the meet. Packet pickup will take place in a tent located at the main entrance on the west side of the facility.
Medical
Athletic trainers will be stationed at the venue.
Awards
Fleet Feet Louisville will be providing awards for the top three male and female finishers in each event.
Timing
DC Timing is the timing company. Photo Finish Timing (FAT) will be used for all running events.
Implements
The meet will not provide any throwing implements. Starting blocks will be provided.
Sanctioning
The Louisville Indoor Games is sanctioned by USA Track & Field.
Age Categories
The Louisville Indoor Games is for high school-aged athletes only.
Race Seeding
Race seeding will be posted here the week of the event. Check back for heat sheets and field event flight pairings.
Contact
For questions or additional information, please contact:

Nick Kopka
Louisville Sports Commission
nkopka@louisvillesports.org