Howard Schnellenberger Award
The Howard Schnellenberger MVP Award fueled by the Kentucky Lottery, presented annually to the most valuable player on the winning team in the University of Louisville – University of Kentucky football game, was created in 2010 by the Louisville Sports Commission. The Award received the blessing from both athletic departments and honors Schnellenberger, who has remarkable football credentials and is the only person inducted into both the UK and UofL athletic halls of fame.
A Louisville native, Schnellenberger was recruited to UK by the legendary Bear Bryant, earned varsity letters in 1952-53-54-55 and was an All-American tight end for the Wildcats under Blanton Collier as a senior. Schnellenberger was an assistant coach at UK under Collier in 1959 and 1960. As the head coach at UofL for 10 years (1985-1994), Schnellenberger is credited with rejuvenating the football program and boosting support for a new, on-campus stadium. He led the Cardinals to victories in the Liberty and Fiesta Bowls.
In 2011, Schnellenberger retired as head coach and director of football operations at Florida Atlantic University, having built the Division I program from scratch starting in 1998. From the 1960s through the 1980s, he was an integral part of four college national championships and two Super Bowl victories. His upstart Miami Hurricanes won the 1983 title and he was offensive coordinator under Bryant at Alabama for titles in 1961, 1964 and 1965. At Miami, Louisville and FAU, Schnellenberger-coached teams are a remarkable 6-0 in bowl games. He was the offensive coordinator for the Miami Dolphins under Don Shula, including the 17-0 season in 1972, and assistant under George Allen with the LA Rams.
Famed for his offensive football genius, Schnellenberger has influenced a memorable list of quarterbacks, including Joe Namath, Kenny Stabler, Roman Gabriel, Bob Griese, Earl Morrall, Bert Jones, Jim Kelly, Bernie Kosar, Vinny Testaverde, Mark Richt, Browning Nagel, Jay Gruden, Jeff Brohm, and Rusty Smith.
In 2014, Schnellenberger published his memoirs in the book: "Passing the Torch: Building Winning Football Programs…with a Dose of Swagger Along the Way". Schnellenberger and his wife, Beverlee, have two sons: Stuart and Tim. His eldest son, Stephen, passed away March 9, 2008. Grandchildren are Teather Ann, Joey, Marcus and Lacie.
Voting Procedure
The Howard Schnellenberger MVP is selected by a vote of the working press covering the game as identified by the sports information directors (SIDs) from each school. Voting takes place near or at completion of the game at the discretion of the SIDs.
History
2021

Kentucky junior quarterback Will Levis rushed for 113 yards and four touchdowns to earn the 2021 Howard Schnellenberger MVP Award fueled by the Kentucky Lottery, as the Wildcats overpowered Louisville 52-21 at Cardinal Stadium. A transfer from Penn State, Levis scored on runs of 29, seven and five yards in the first half as UK built a 24-7 lead, then added a one-yard scoring run to open the third quarter. His four rushing touchdowns in one game tied a school record, equaled most recently by Lynn Bowden Jr. in 2019. Levis also completed 14 of 18 passes for 149 yards and finished the game with 262 total yards and no turnovers. Kentucky finished the game with 364 yards rushing and seven touchdowns on the ground, averaging 7.4 yards per rush. The Wildcats posted a regular season record of 9-3 and 5-3 in the SEC East.
2020
The 2020 Schnellenberger Award was paused due to COVID-19 cancelling the Governor's Cup.
2019

University of Kentucky (UK) junior quarterback Lynn Bowden Jr., rushed for 293 yards and four touchdowns and was named winner of the 2019 Howard Schnellenberger MVP Award after leading the Wildcats in a 45-13 win over the University of Louisville at Kroger Field in Lexington. Bowden's six-yard touchdown run in the second quarter proved to be the winning score, then he added scoring runs of 60 and 46 yards in the third quarter when the Wildcats jumped out to a 31-13 lead. Bowden's 32-yard, fourth quarter touchdown scamper closed out the scoring. Bowden finished the year with 1,468 yards rushing and 13 touchdowns, 403 yards passing with three touchdowns and 30 receptions for 348 yards and one touchdown. He also returned eight kickoffs for 200 yards and four punts for 53 yards. He led the nation in average yards per carry with 7.94 and was fourth in all-purpose yards per game with 160.7.
2018

University of Kentucky sophomore quarterback Terry Wilson was named winner of the 2018 Howard Schnellenberger MVP Award after leading the Wildcats in a 56-10 win over UofL  at Cardinal Stadium. Wilson completed 17 of 23 passes for 261 yards and three touchdowns and carried the ball 10 times for 79 yards and a score. "Terry Touchdown," Wilson's nickname when he arrived in Lexington, was spectacular in the first half of Kentucky's win. His three-yard touchdown run put Kentucky up 14-0 with 2:05 left in the first quarter and after Louisville cut Kentucky's lead to 21-10, Wilson led Kentucky on an eight-play, 75-yard touchdown drive, finding Lynn Bowden, Jr., with a 28-yard touchdown pass. The Wildcats got the ball back with just over two minutes left before halftime and Wilson led UK on a quick touchdown drive of seven plays and 67 yards in just 95 seconds capped by a 13-yard pass to Bowden. He finished the half completing 14 of 16 passes for 208 yards and a pair of touchdowns, helping UK amass a commanding 35-10 halftime lead. This is the ninth consecutive season that the Louisville Sports Commission has presented the Howard Schnellenberger MVP Award to the most valuable player on the winning team in the Governor's Cup annual rivalry between the University of Louisville and University of Kentucky football teams.
2017

University of Louisville junior quarterback Lamar Jackson was named winner of the 2017 Howard Schnellenberger MVP Award by amassing 372 yards in total offense and leading the Cardinals to a 44-17 blowout win over rival UK. Jackson completed 15 of 21 passes for 216 yards and two touchdowns and ran 18 times for 156 yards. The 2016 Heisman Trophy winner, Jackson was masterful in his final regular season appearance in a storied, three-year career. He led the Cardinals on methodical scoring drives on eight consecutive possessions, five in the first half and three in the second half, including drives of 75, 69, 80, 77, and 99 yards.  He accounted for 22 total first downs on the ground and in the air, and averaged 8.7 yards-per-carry and 10.9 yards-per-pass attempt. This was Jackson's 12th consecutive game with more than 300 yards in total offense and his eighth consecutive game with more than 100 yards rushing, both school records. Jackson earned his second Governor's Cup MVP; the first came as a true freshman in 2015 when he came off the bench to lead the Cardinals to a frantic, 38-24 comeback win over the Wildcats with 316 yards in total offense and four touchdowns.
2016
University of Kentucky junior quarterback Stephen Johnson was named winner of the 2016 Howard Schnellenberger MVP Award after leading the visiting Wildcats to a wild, 41-38 upset win over the University of Louisville on Nov. 26, 2016, at Papa John's Cardinal Stadium. In a game full of offensive fireworks where the score was tied four times and the lead changed hands seven times, Johnson completed 16 of 27 passes for 338 yards and three touchdowns, and rushed for 83 yards on eight carries in leading UK to its seventh win of the season. He connected with Garrett Johnson for a 75-yard touchdown pass in the first quarter and a 63-yard touchdown pass in the second quarter, and threw a 35-yard touchdown pass to Dorian Baker early in the fourth quarter. Unflustered and precise in front of a raucous crowd, Johnson engineered a masterful, seven-play, 60-yard drive that consumed 1:33 and led to UK's winning 47-yard field goal with 00:12 remaining in the game. On the game-winning drive, he was 2-2 passing for 34 yards and scrambled 15 yards for a first down to put the Wildcats in field goal range.
2015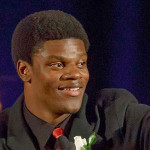 University of Louisville freshman quarterback Lamar Jackson earned the 2015 Howard Schnellenberger MVP award by rushing for two touchdowns and throwing for one as he led the Cardinals to a 38-24 come-from-behind win over in-state rival Kentucky in Commonwealth Stadium. The true freshman quarterback did not start, but entered
the game with 4:42 left in the first quarter after starting QB Kyle Bolin tossed his second interception and led Louisville to a 38-24 win. With the Cardinals down 21-0 to its arch-rival, Jackson engineered a dramatic comeback that included five Louisville touchdowns. Jackson is the first FBS quarterback this season to record multiple games with 150 rushing yards. He broke his own Louisville single-game rushing record by a quarterback with 186 yards on just 17 carries running the read-option play effectively.
2014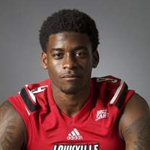 University of Louisville's DeVante Parker has won the 2014 Howard Schnellenberger Award. The Louisville, Ky., (Ballard High School) native caught six passes for 180 yards and three touchdowns during Louisville's 44-40 win over Kentucky. Parker notched his ninth 100-yard receiving game and tied UofL's record for career touchdown receptions with 33, previously held by Ibn Green. Parker's three touchdowns were the most by a Louisville receiver this season. Although Parker missed the first six games of the season, he has since accumulated 735 yards receiving, five touchdowns and 35 catches. He was the standout performer in a wild back-and-forth game that included 84 points and nearly 800 yards of total offense.
2013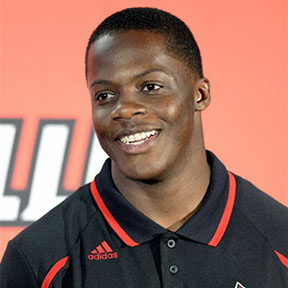 Teddy Bridgewater won the 2013 Howard Schnellenberger Award, given to the MVP from winning team in University of Louisville versus University of Kentucky annual Governor's Cup football game. The Miami native threw for 250 yards and a touchdown during Louisville's 27-13 win over Kentucky Saturday at Commonwealth Stadium in Lexington, Ky.
Bridgewater completed passes to seven different Louisville players including a second quarter touchdown pass to junior wideout DeVante Parker. Bridgewater showed a deft touch on the play, lofting the ball high into the corner of the end zone so that Parker could make a play on the ball over UK safety Eric Dixon.
The Heisman Trophy candidate now has at least 100 passing yards in 26 of his last 27 games and 10 straight games. He has thrown a touchdown pass in 15 consecutive games.
Bridgewater was 2012 Big East Offensive Player of the Year and the 2013 Allstate Sugar Bowl MVP. Bridgewater now has 6,849 career passing yards and 51 touchdown passes.
Louisville won its third straight Governor's Cup clash on the strength of touchdowns by DeVante Parker and a pair of TDs by running back Senorise Perry along with a pair of field goals from John Wallace. The Cards led 10-3 at half time, and added 10 straight points in the third quarter.
Bridgewater, who also won the 2012 award, is the first back-to-back winner of the Howard Schnellenberger MVP Award in the awards four-year history.
2012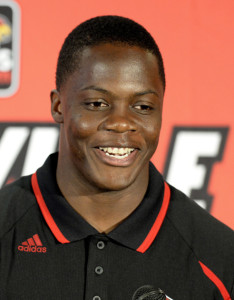 Cardinal sophomore quarterback Teddy Bridgewater earned the Howard Schnellenberger MVP Award with a sterling performance in University of Louisville's 32-14 win over Kentucky at Papa John's Cardinal Stadium.
Bridgewater completed 19-21 passes for 232 yards with no TDs or interceptions and set a UofL single-game record by completing 90.5 percent of his passes. He led UofL on a 15-play 99-yard scoring drive on the Cardinals' first possession and a six-play 85-yard scoring drive on their second possession for a lead they would never relinquish.
"The offensive line did a great job, and I give all the credit to them and my other teammates," Bridgewater said after the game.
Bridgewater also led UofL on a 93-yard scoring drive on the Cardinal's first possession of the second half. He relinquished play calling duties to backup Will Stein for the remainder of the game after the Cardinals tallied their final score of the day with 4:37 to go in the third quarter.
2011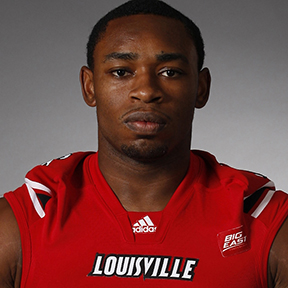 Louisville native Dexter Heyman was named the Howard Schnellenberger MVP Award as Louisville defeated Kentucky 24-17 at Commonwealth Stadium in Lexington, Ky on Saturday.
Heyman, a senior linebacker and graduate of Louisville's Male High School, was selected after a vote of the working press covering the game as identified by the sports information directors from each school. Heyman led the Cardinals defensive attack with 12 tackles, one off his career high, and a forced fumble. It was the third forced fumble of his career and first since 2009.
2010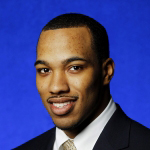 Kentucky senior running back Derrick Locke has been named the inaugural recipient of the Howard Schnellenberger MVP Award for his performance in a 23-16 win over Louisville on Sept. 3, 2010 at Papa John's Cardinal Stadium in Louisville.
Locke registered 104 yards rushing on 23 carries in the game while recording two first quarter touchdowns. Locke had first quarter touchdown runs of 32 and one yards. It marked the first time in his career that Locke had registered two rushing touchdowns in a game. Locke also had a 23-yard kick return.
"It is a source of great pride for me to be a part of the Governor's Cup Football Game," Schnellenberger said. "This intense rivalry has become the defining game for collegiate football within the Commonwealth of Kentucky. My hat's off to the Wildcat and Cardinal teams, coaches and fans."